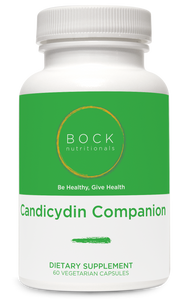 Candicydin Companion
Bock Nutritionals
Regular price $ 39.89 Sale
Experience a thriving microbiome with Bock Nutritional supplements!
QTY - 60 Vegetarian Capsules
Candicydin Companion offers a complementary blend of herbs, essential oils, and sodium caprylate, a naturally occurring fatty acid. Candicydin Companion is formulated to support the body's immune system as well as healthy gastrointestinal (GI) flora. This comprehensive formula contains Origanox™ WS—a GRAS, phenolic-rich ingredient extracted from the edible herb Origanum vulgare—as well as herbs to support digestion and a healthy GI system.
Supports a healthy digestion
Promotes a balanced gut flora (microbiome)
Potent herbs, essential oils, and sodium caprylate
Rich in phenols from oregano
Gut health is so vital to our overall health, so help promote healthy digestion and well-balanced gut flora with a supplement from Bock Nutritionals with all the herbs and essential oils you need for a thriving GI tract!
60 vegetarian capsules
Serving size: Two capsules
Supplement Facts
Suggested Dosage: Take 1 to 2 capsules one a day, or as directed by a healthcare practitioner.
Serving Size: 2 Capsules
Servings Per Container: 30
| Ingredients  | Amount Per Serving | % Daily Value |
| --- | --- | --- |
| Oregano Extract (Origanum vulgare)(herb)(≥23% phenolics)(Origanox™ WS) | 300 mg | ** |
| | 300 mg | ** |
| | 300 mg | ** |
| | 200 mg | ** |
| | 100 mg | ** |
Other Ingredients: HPMC (capsule), dicalcium phosphates dihydrate, steric acid, calcium silicate, magnesium stearate, silica and medium chain triglyceride oil.
DOES NOT CONTAIN: Wheat, gluten, yeast, soy, animal or dairy products, fish, shellfish, peanuts, tree nuts, egg, ingredients derived from genetically modified organisms (GMOs), artificial colors, artificial sweeteners, or artificial preservatives.
CAUTIONS: Do not use if you are pregnant or lactating.
---