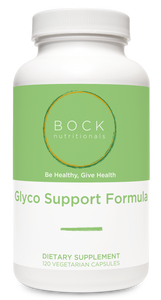 Glyco Support Formula
Bock Nutritionals
Regular price $ 61.94 Sale
Experience healthy blood sugar levels with Glyco Support from Bock Nutritionals!
QTY - 120 Vegetarian Capsules
Glyco Support Formula features significant quantities of the key ingredients that support insulin utilization and glucose metabolism.
CinSulin® is a safe, patented, 100% water-soluble, 10:1 concentrated form of cinnamon that provides polyphenol polymers.
Standardized American ginseng, green tea, gymnema, and alpha-lipoic acid help protect pancreatic cells, support insulin sensitivity, and provide antioxidant activity. Albion®'s TRAACS® patented chromium is added for its role in enhancing insulin activity.*
Supports healthy blood sugar levels
Promotes insulin sensitivity
Contains water-soluble 

CinSulin® 

Incorporates key herbs for glucose metabolism
Support your blood sugar with a supplement that promotes insulin sensitivity and glucose metabolism in a formula abundant in vitamins, minerals, and herbs.
Supplement Facts
Suggested Dosage: Two capsules daily, or as directed by a healthcare practitioner.
Serving Size: 2 Capsules
Servings Per Container: 60
| | | |
| --- | --- | --- |
| Ingredients | Amount Per Serving | %DV |
| Chromium (as TRAACS® chromium nicotinate glycinate chelate) | 200 mcg | 167% |
| American Ginseng Extract (Panax quinquefolius)(root and leaf)(15% ginsenosides) | 375 mg | ** |
| Alpha Lipoic Acid | 200 mg | ** |
| Green Tea Aqueous Extract (Camellia sinensis)(leaf)(80% polyphenols, 60% catechins, 30% EGCG, 6% caffeine) | 200 mg | ** |
| Gymnema Extract (Gymnema sylvestre)(leaf)(25% gymnemic acids) | 200 mg | ** |
| Cinnamon 10:1 Aqueous Extract (Cinnamomum cassia)(bark)(3% type-A polymers)(CinSulin®) | 200 mg | ** |
Other Ingredients: HPMC (capsule), microcrystalline cellulose, steric acid, magnesium stearate, silica, and medium-chain triglyceride oil.
DOES NOT CONTAIN: Wheat, gluten, yeast, soy, animal or dairy products, fish, shellfish, peanuts, tree nuts, egg, ingredients derived from genetically modified (GMOs), artificial colors, artificial sweeteners, or artificial preservatives.
CAUTION: Do not use if you are pregnant or lactating.
---